"One of the most critical features of mobile health clinics is their ability to build trust with the community and link clinical and community settings"
Mobile Health & Wellness Solutions℠ for Health Equity
Mobile healthcare clinics are a flexible and practical choice for overcoming deficiencies in the healthcare market. Regions with inadequate health infrastructure are experiencing an increasing need for mobile clinics to provide services that are otherwise inaccessible.
Mobile healthcare clinics play a significant role in addressing the needs of the urban poor, medically vulnerable, those with limited financial resources, and rural populations.
Access to high-quality healthcare is vital and BusTest Express℠ has a team of experts that can help our nation successfully overcome healthcare system barriers, expand care access, and recognize healthcare as a human right.
Help to save our government money by delivering preventative healthcare outreach services that will in turn avoid unnecessary and expensive emergency department visits.
Reach patients on a regular pre-scheduled basis, close to their homes, at school, or in the workplace. This practice strengthens patient relationships by working on a dependable schedule to bring healthcare to those who may otherwise not have adequate access.
Medical care access to vulnerable patients, who may otherwise skip timely or regular care due to lack of trust in the healthcare system, cost/time constraints, or transportation challenges.
Advance health equity and the well-being of our nation for:
Racial/Ethnic Groups
Indigenous and Native Americans
Asian/Asian Americans, Native Hawaiians, and Pacific Islanders
Black/African American
Hispanic/Latino
Medically Underserved
People with disabilities
People with chronic medical conditions
People with behavioral health conditions, including substance use disorder and mental health conditions
People with long-term mental illness or long-term psychiatric disability
People who require long-term services and supports
People who are uninsured or underinsured
Other Marginalized Groups
Immigrants, refugees, and asylees
LGBTQIA+ people
People with low income
People experiencing homelessness
Veterans or military personnel and their families
Women and girls
Workers
Agricultural industry workers (includes migrant workers and meat packing/food processing industry)
Essential workers
Frontline workers
Special Age Populations
Children (younger than 12)
Youth (12–17)
Young adults (18–25)
Older adults (65 and older)
Congregate Settings
Carceral settings (i.e., jails, prisons, detention centers)
Homeless shelters (includes heating and cooling centers)
Long-term care facilities (e.g., nursing homes, skilled nursing facilities)
Shared housing (e.g., group homes, assisted living, dormitories)
Geographic Areas
Rural
Remote
Tribal
Territorial
Other Relevant Settings
Businesses
Childcare facilities (e.g., Head Start, Early Head Start, in-home daycare)
Health care facilities and ambulatory care
Schools (Early childhood, K-12, and postsecondary educational institutions)
Transportation (e.g., public transportation, private transportation, gig transportation, accessible / para-transit, emergency medical service, air travel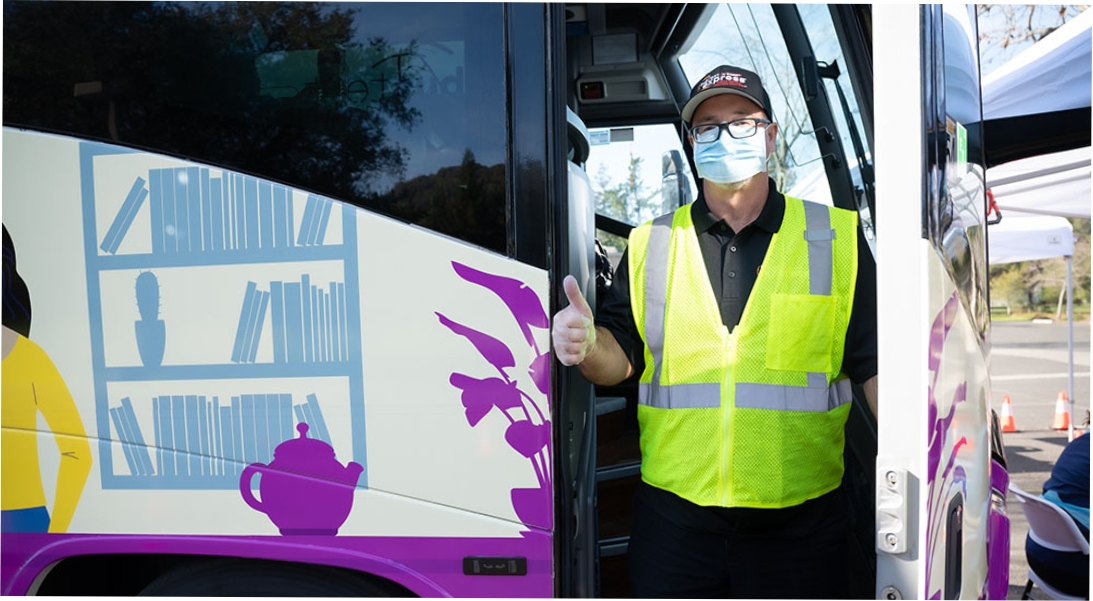 Create, Collaborate, and Commit to Change
The increase in demand to provide brick and mortar healthcare facilities in rural areas is usually not economically feasible leading to an increase in demand for mobile clinics. Mobile health clinics travel to these areas and can be manufactured for, or otherwise adapted to, provide a wide variety of services.
Our passionate and dedicated team is experienced in launching and scaling mobile clinic site logistics and operations. We provide assistance from early planning stages to on-site coordination and quality assurance.
BusTest Express℠ provides expert solutions, quality services, rapid responsiveness, and absolute accountability.
With gateway cities and equipment locations across the country, BusTest Express℠ also offers the resources, services, and management to grow programs throughout local, state, and national platforms.
Vehicle Services & Features
BusTest Express℠ mobile clinics are co-developed with our clients and uniquely tailored to meet your program's requirements. As 3x National Transportation Services Award Winners, we attend to every detail of your mobile clinic and field service logistics to optimize for safety, sanitation, and function. Each mobile clinic typically includes the following features: